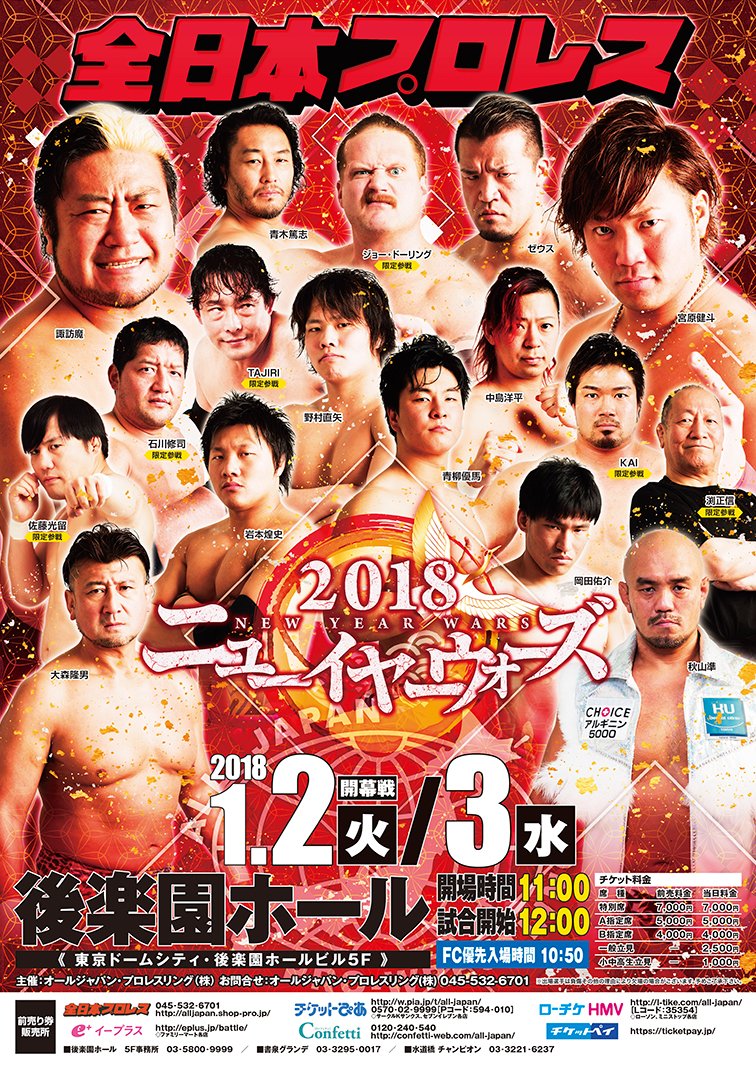 A All Japan Pro Wrestling realizou nos dias 2 e 3 o New Years Wars no Korakuen Hall, na capital japonesa. O show do dia 2 teve os títulos Jr. e Triple Crown em jogo, e o do dia 3 teve os títulos de equipes em jogo.
No dia 2 não houve mudança de campeões, tanto TAJIRI quanto Joe Doering venceram seus combates. Seus proximos desafiantes já estão definidos, serão Atsushi Aoki e KAI, respectivamente.
— プロレス/格闘技DX編集部 (@PKDX) 2 de janeiro de 2018
Neste primeiro dia também houve o anuncio do torneio Jr. BATTLE OF GLORY, que acontece entre os dias 13 e 25 de Fevereiro.
Os participantes são:
A BLOCK
Atsushi Aoki
Shuji Kondo
Yusuke Okada
Atsushi Maruyama
Soma Takao
Keiichi Sato
B BLOCK
Koji Iwamoto
Yohei Nakajima
TAJIRI
Hikaru Sato
Kotaro Suzuki
Mineo Fujita
Os resultados deste primeiro show:
AJPW New Years Wars, 02/01/2018
Tokyo Korakuen Hall
1.522 Espectadores
1. Atsushi Maruyama, Dick Togo & Masanobu Fuchi derrotaram Osamu Nishimura, Ultimo Dragon & Yohei Nakajima (4:39) com um Crossface de Togo em Yohei.
2. Kento Miyahara, Naoya Nomura, Yoshitatsu & Yuma Aoyagi derrotaram Hikaru Sato, KAI, Ryouji Sai & The Bodyguard (7:39) com um Blackout de Miyahara em Hikaru.
3.
Battle Royal:
KAI derrotou Atsushi Maruyama, Black Tiger, Fuminori Abe, Hikaru Sato, Kaji Tomato, Keiichi Sato, Kento Miyahara, Masanobu Fuchi, Naoya Nomura, Osamu Nishimura, Ryouji Sai, The Bodyguard, Yohei Nakajima, Yoshitatsu, Yuma Aoyagi, Yusuke Okada & Yutaka Yoshie (10:48) com um Meteor Impact em Maruyama.
4. Violent Giants (Shuji Ishikawa & Suwama) & Atsushi Aoki derrotaram Burning Wild (Jun Akiyama & Takao Omori) & Koji Iwamoto (8:24) com um Cross Armbar de Aoki em Iwamoto.
5.
AJPW World Junior Heavyweight Title:
TAJIRI (c) derrotou Kotaro Suzuki (12:42) com um Buzzsaw Kick.
6.
Triple Crown Title:
Joe Doering (c) derrotou Zeus (20:09) com um Revolution Bomb.
-----
No segundo show, os vencedores da World's Strongest Tag League, Suwama e Shuji Ishikawa derrotaram Jun Akiyama e Takao Omori e se tornarão os 78º campeões de equipes da AJPW. Os primeiros desafiantes dos novos campeões serão YOSHITATSU e Kento Miyahara.
— プロレス/格闘技DX編集部 (@PKDX) 3 de janeiro de 2018
Os resultados do segundo show:
AJPW New Years Wars, 03/01/2018
Tokyo Korakuen Hall
1.438 Espectadores
1. Último Dragón & Koji Iwamoto defeated Masanobu Fuchi & Osamu Nishimura (11:29) com um La Magistral de Dragon em Fuchi.
2. Evolution (Atsushi Aoki & Hikaru Sato) defeated Kotaro Suzuki & Keiichi Sato (10:26) com um Texas Clover Hold de Aoki em Keiichi.
3. TAJIRI & KAI defeated Joe Doering & Black Tiger VII (3:32) com um Splash Plancha de KAI em Tiger.
4. Ryoji Sai defeated Naoya Nomura (16:29) com um Running Corner Knee.
5. Kento Miyahara, Yoshitatsu & Yuma Aoyagi defeated Zeus, The Bodyguard & Atsushi Maruyama (11:45) com um German Suplex Hold de Miyahara em Maruyama.
6.
AJPW World Tag Team Titles:
Suwama & Shuji Ishikawa defeated Wild Burning (Jun Akiyama & Takao Omori) (c) (20:38) com um Splash Mountain de Ishikawa em Akiyama.
RESULTADOS - AJPW New Years Wars (02 e 03/01/2018)
Reviewed by
Ivaldo Azevedo
on
15:56
Rating: